The founder of Nueva Manteca is Jan L. Hartong who started the band in 1983. In the 90's, journalist Raul Rico of the authoritative Latin Beat Magazine, praised the group as "Europe's finest in Latin Jazz". Many have followed him over the years, and not without reason. The group belongs to the top of the Latin scene as can be judged from USA radio playlists which regularly show a top ranking position for Nueva Manteca's CD's.
ABOUT THE MUSIC
Nueva Manteca creates a synergy between Cuban music and Jazz music "pur sang". The group is not "just another good latin jazz band" as there are so many these last few years, they are unique in performance, style and repertoire. Their – mostly own – arrangements and compositions show inventively, creativity and most all a musical spirit that's really something!
Nueva Manteca is the living example that the sum is more than the parts. And considering the parts resemble an international caliber and equally convincing soloist capacities of the individual member expect a sizzling and swinging show! Nueva Manteca shows what musical synergy is all about.

MAIN PERFORMANCE
The group toured and played a.o. in : Germany, Belgium, France, Finland, Denmark, Londen Salsa Festival 1986, KLM Jazz Festival Curacao, Toronto Jazz Festival, Montreal Jazzfestival,  Tour USA 1996 – San Jose, Oakland,  Trinidad 1996 – Port of Spain. Tour Israël 1997- Tel Aviv, Haifa,  North Sea Jazz 1990/2004. Heineken Puerto Rico Jazz Festival 2003,  Ollin Kan festival 2008- Tlalpan (Mexico), Colombia 2008/ 2012 – Bogota, Medelin, Cali and South Korea.
NUEVA MANTECA "MEETS THE LEGENDS"
Nueva Manteca has toured with an impressive number of international stars, including: Giovanni Hidalgo, Armando Peraza, Orestes Vilato, Dave Valentine, Paquito d'Rivera, Arturo Sandoval, Luis Conte, Bobby Sanabria, Nicky Marrero, Ralph Irizarry and Claudio Roditi.
LINE-UP
Oscar Cordero – trumpet
Ben van den Dungen – sax
Marc Bischoff – piano
Samuel Ruiz – bass
Nils Fischer – percussion
Liber Torriente – drums
DISCOGRAPHY
Varadero Blues (Timeless)
Afrodisia (Timeless)
Bluesongo (EMI)
Porgy & Bess (EMI)
In concert at Nick Vollebregt's Café (Wereldomroep)
Let's Face The Music And Dance (Blue Note)
Afro Cuban Sanctus (EMI)
Night People (EMI)
Congo Square (Munich Records)
A Latin Tribute to West Side Story (Munich Records)
NEW
The new live album Crime of Nueva Manteca has been released!
The CD Crime is recorded last year during a concert in a theatre in The Netherlands. From this concert there is also a dvd available. You can download the cd with I tunes.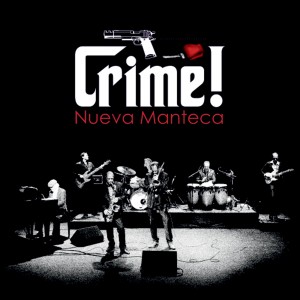 Download
NEW
Nueva Manteca LIVE (JWAJAZZ Records)